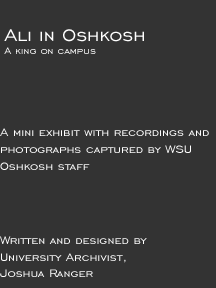 Few people may remember that Muhammad Ali was a frequent visitor to Wisconsin. In the early morning hours of the winter of 1968, Ali would often take off from his home in Chicago and steer his Cadillac Eldorado in the direction of Milwaukee. When he got there, he would turn around and head back. This was a lonely time for the boxer. In June 1967 Ali was convicted in federal court of refusing induction into the U.S. Army when he claimed conscientious objector status because of his Islamic faith. The act was considered by various states' boxing authorities as "detrimental to boxing," and each stripped away his title and license to box. Federal authorities took Ali's passport. Muhammad Ali faced five years in jail and an expensive appeal process that quickly depleted the fighter's savings. In those days, Ali had much to think about and he needed to be by himself.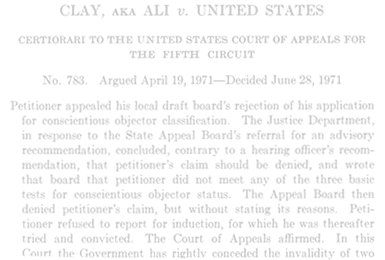 U.S. Supreme Court Reporter
Ali's draft refusal case was appealed to the U.S. Supreme Court.

Ali's exile was a long one. In his very prime as a fighter, between the ages of 25 and 28, Ali did not box. While he grew in popularity among black Americans and white liberals, white conservatives and veterans scorned him. Still, as Ali slowly became a national folk hero across the country, attitudes on the war in Vietnam began to change. Increasingly, Americans challenged the war and the draft. In June 1970 in Welsh v. the United States, the U.S. Supreme Court ruled sympathetically in favor of conscientious objectors. The boxing world came around and allowed Ali to fight during his appeal. His next visit to Wisconsin would prove not to be so lonely as those early morning trips along the lakeshore.


From the time he pulled up at the Wisconsin State University-Oshkosh in his custom Dodge mobile home on April 1, 1971 to the moment he left the campus, a largely adoring crowd surrounded Ali. At his press conference, at the Afro-American Society banquet and at his scheduled talk at Albee Hall, thousands of people gathered to look upon and listen to one of the most well-known sports and American cultural figures of the time. And while he no longer held any belts, many in the crowd could not help but yell out "Hey, champ!" to the king of boxing.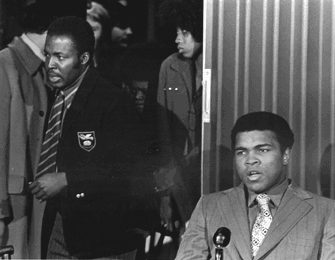 University of Wisconsin, Oshkosh photo.
Ali at a press conference held before his scheduled talk. Local press asked the champ about his fight with Frazier: "I whupped him," Ali replied.
Ali's appearance on the Oshkosh campus came exactly twenty-three days after he suffered his first defeat in the professional ring. On March 8, Smokin' Joe Frazier, the undefeated heavyweight champion from Philadelphia, held on to his belt in a 15-round, bruising fight at the Madison Square Garden. Despite Ali's tune-up fights in late 1970 against contenders Jerry Quarry and Oscar Bonavena, this was the fight that would truly signal the return of Muhammad Ali into the world of professional boxing after his three-and-a-half-year exile from the sport. While the "Fight of the Century" would be the first time two undefeated champions fought for the same title, the championship belt was not the only thing up for grabs at the Garden.




Ali v. Frazier poster, Congress of Racial Equality, 1971.
The Congress of Racial Equality (CORE) promoted the fight between Ali and Frazier despite frayed tensions between itself and Frazier due to the latter's refusal to support CORE activities.
Like Ali's earlier fights with Sonny Liston-- and to a greater extent, Floyd Patterson--the Frazier fight became (much due to Ali's manipulations) a symbolic battle between the cultural forces of black and white, with the black Frazier an unwilling surrogate for white America and the rule of law and Ali, ever the revolutionary, the very embodiment of black power and rejection of the country's designs for black people. Compared to Liston and Patterson though, Joe Frazier was a more adept fighter at the time he met Ali. With Ali slowing due to years of inactivity (not to mention two other fights in the past five months), the symbolism Ali crafted was crushed under the power of Frazier's left hook. In the end, Frazier won by decision and Ali cried foul, claiming a bias amongst the judges due to his politics. Despite his protests, Ali was humbled before a worldwide audience, finally getting what many conservative Americans thought "the Louisville Lip" deserved. Yet a month later in Oshkosh, Wisconsin, you would never know there was (or had ever been) another heavyweight champion of the world.


Ali's visit to Albee Hall on the Oshkosh campus had been scheduled two times before the Frazier fight but training schedules interfered. Oshkosh was all the better for the delays, however, as Ali's eventual appearance on campus gave the people of the community an opportunity to see and hear him at a critical point in his career. The campus and community had the school's Afro-American Society to thank for bringing the boxer to campus; a group that found itself at a critical point as well.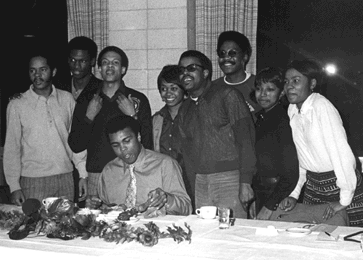 University of Wisconsin, Oshkosh photo.
Members of the Afro-American Society with Ali. Standing from left to right are Henry Clay, an unidentified student, Louis DeSilva, Rosetta Bell, an unidentified student, Elmer Jackson, Loretta Mattox, and Beverly Henderson.
IIt was two and a half years before, on November 21, 1968, that most of WSU-Oshkosh's black students were arrested--and later expelled--after they occupied University President Roger Guiles' office with a list of demands to make the school more hospitable to black students on a day became soon known as "Black Thursday." In the wake of those events, the group that had organized those students, the Black Student Union (BSU), grew into the Afro-American Society (AAS) and by 1971 was coming into its own, beginning to enjoy some of the benefits the protestors of 1968 had demanded. Enjoying a physical space of their own in the Intercultural Center (later moved to the Wall House and renamed Multicultural Educational Center), the group was able to plan and pay for Ali's visit. The AAS had put on their first "black Homecoming" in October and were publishing the school's first all-black yearbook, Wantu Wauzuri. The Afro-American Studies minor began in February 1971 and was now supported by new germain titles at the Polk library and within the library of the Intercultural Center.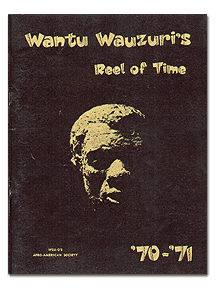 From University Archives Collections
"Wantu Wauzuri's Reel of Time" was the first issue of the annual published by the Afro-American Society. According to issue number two, renamed "Ebony Titan", "Wantu Wauzuri" meant "beautiful people," but did not specify in what language.
"Wantu Wauzuri's Reel of Time" was the first issue of the annual published by the Afro-American Society. According to issue number two, renamed "Ebony Titan," "Wantu Wauzuri" meant "beautiful people," but did not specify in what language. Ali's appearance was a continuation of a strong series of black speakers brought to WSU-Oshkosh by various groups that included such individuals as Julian Bond, Myrlie (Mrs. Medgar) Evars, and later in April, Florynce Kennedy. That list would later include many more distinguished names. In appreciation of his visit, the Afro-American Society made Ali the guest of honor at a banquet held that evening at the Reeve Memorial Union. The dinner provided members a great opportunity to meet and speak with the champ. After a full meal with the group, Ali made his way to Albee Hall for his speech.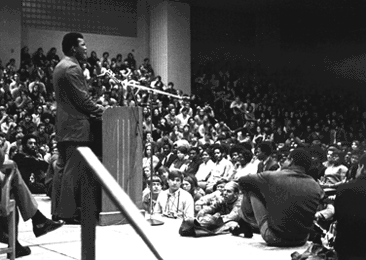 University of Wisconsin, Oshkosh photo.
Ali speaks to very packed Albee Hall.
Speaking to a capacity audience at Albee Hall on the evening of April 1st, Muhammad Ali spoke on the subject of "The Purpose of Life." College campuses were not unfamiliar territory for the fighter since much of this exile was spent speaking to largely white audiences on the subjects of race and the war in Vietnam. In the spring of 1971, Oshkosh was an early stop along a sixty-five campus college tour. The night before found Ali at UW Milwaukee, and while much of his talk was recycled from that evening, it was no less pure Muhammad Ali. His remarks, echoing Emerson, challenged listeners to find themselves and their true vocation and to question their own happiness. Peppering this self-reliance motif was some of Ali's signature poetry. At the end of his prepared comments, Ali entertained questions from the audience where subjects ranged from his fight with Frazier ("I whooped him!"), pending retirement and his former friend Malcom X.

Much has been written and said about Muhammad Ali, and it is certain that he has assumed a significant position in modern American history and culture. Arguably one of the most controversial black Americans alive in 1971, Ali was warmly received by a campus community that was coming to terms with the challenges of its race relations and anxieties regarding Vietnam. The WSU-O Afro-American Society, which just two years before had struggled for its existence and agenda, was now holding court with not just this giant of black America but others such as Julian Bond and Florynce Kennedy. Ali's visit thus provided a snapshot of two different faces of black youth in 1971: the iconoclastic celebrity, bound by conscience to use his position to spread his message, and the pioneering student, fighting for and taking advantage of a university culture that was beginning to value their contributions to the campus and society.

College campuses invite national speakers of all sorts, not just for the direct educational value of their lectures but for the contribution they make to a full, academic experience, and to forward the tolerance of competing ideas and different points of view. UWO has had the pleasure of hosting a variety of such individuals each with their own unique contribution to our experiences. It is easy to understand that some will be more remembered than others and when a king comes to campus, folks should remember.