George Sumner Albee, the first president of the Oshkosh Normal School, held his office from the school's opening in 1871 until his death in 1898. During his presidency, Albee demanded high standards in both education and morality. He personally interviewed candidates for admission and later introduced the first mandatory entrance examinations which included arithmetic, spelling, penmanship, geography, grammar, and reading. Strict codes of conduct were established, including a ban on dancing on campus as it, in Albee's words, "makes one light of foot and mind." His attitudes on education, however, were more progressive. Under his leadership, the Oshkosh Normal School initated the modern use of "practice teaching" and became the first Normal School in the nation to house a kindergarten.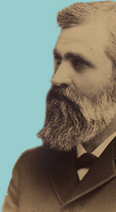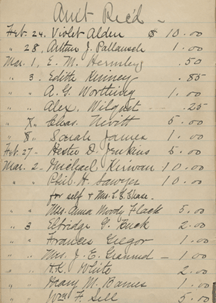 ->Donations recorded by the Albee Memorial committee
Upon his death, Albee's staff and fellow educators formed a committee to establish a memorial celebrating his contributions to the development of the Normal School. The committee considered several alternative memorials including a beautification project and a scholarship before deciding in 1899 to commission Helen Farnsworth Mears, an internationally known Oshkosh-born sculptress and Normal School alumna, to create a marble bust of the late George Albee to be based upon his death mask. Mears was paid $700 for her efforts.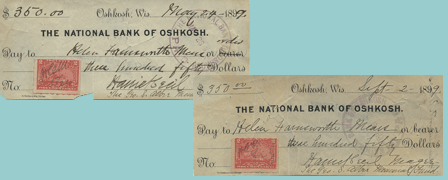 ->Payment to Helen Farnsworth Mears came in two checks.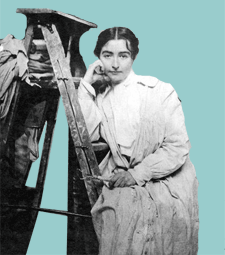 Helen Farnsworth Mears was known by her birth name of Nellie when she was a student of Albee's at the Oshkosh Normal School. This was before she pursued studies at the Art Institute of Chicago and before she renamed herself in honor of the aunt who supported her artistic education. At only 21 years old, Mears received a commission by the state of Wisconsin to create a sculpture for the Columbian Exposition of 1893 in Chicago. For it she sculpted "Genius of Wisconsin," a dramatic, life-sized woman draped in a flag with an eagle perched near her shoulder. Today this sculpture can still be viewed at the Wisconsin capital building. The piece captured the attention of Augustus Saint-Gaudens, a renowned American sculptor, who invited Mears to work as an assistant in his studio, first in New York and later in Paris. Mears' return to Oshkosh from Europe coincided with Albee's death, which gave the memorial committee a rare chance to obtain her services in the creation of Albee's bust.
| | | |
| --- | --- | --- |
| ->Admission ticket to the dedication of the first Albee bust | In Oshkosh, Mears modeled the bust in clay, from which a plaster cast was then made in Chicago and sent to a sculptor in New York, Piccully, who chiseled the marble version of the memorial. The bust was unveiled in the auditorium of the Oshkosh Normal School on September 4, 1899, the first anniversary of Albee's death. Unfortunately, the original bust was destroyed in the Normal School fire on March 22, 1916. Only a portion of the sculpture, the right eye, blackened by fire, was found among the ruins. A new committee, which included several members of the original memorial committee, was formed, and a bronze replica of the marble bust was cast by the Gorham Foundry in New York and was dedicated on June 9, 1919, in the Normal School library. | ->Remainder of right eye found in rubble of Normal School |